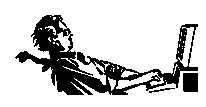 NOCCC Help
This site has two (2) horizontal
menu bars
. At the top of the Home Page is menu bar 1. It's for basic things, like getting HOME or getting HELP. About 2 inches down is menu bar 2, a '
dropdown
' menu bar. Mousing over a menu word here causes one or more
sub-menus
to appear.
Links
: In menu bar 2, some menus and sub-menus are hyperlinks, and some are not. Where a menu word is underlined, it is a link to another page, and its sub-menus are for 'information only', i.e. they are not links.
In menu bar 2, where a menu word is not underlined it is NOT a link, but its sub-menus ARE links to other pages. Less confusing once you get the hang of it.
Some of the pages you visit will show up in the central viewport of the Home Page. Other pages will take over the whole window the Home Page was using. To get back, use the browser's 'Back' button. Purpose of 'short' and 'full' page display: Make navigation easier - don't leave the Home Page central viewport unless necessary.
The '
Sitemap
' menu pick is to give a
quick overview of information
available in this site, not to be used for another form of navigation.
Operation of the central viewport:
Some short pages that show up in the central viewport (center column) are short enough that a scrollbar is not required in the column. Simply scroll up and down with the window's outer scroll bar, or just roll the mouse's scroll wheel to see the full page. Some longer pages that show up in the central viewport require a second scrollbar, which shows up automatically. In this case, just click the mouse anywhere in the central viewport, and use the mouse's scroll wheel exclusively to scroll to the end of the page. No need to use the window's outer scrollbar.
The
mission
of this web site is to provide basic information about the Club, how to get here, what we provide, what it costs, etc., and to deliver in digital, full color form, the Orange Bytes Newsletter. The 'Bytes' is also delivered to members via snail-mail in hard copy, B/W form. It gets archived for research purposes. If you need the Bytes in color format, print it directly from the downloaded PDF file.
Directly below menu bar 1 on the Home Page, we have provided a '
site search capability
', which is ultimately provided by Google. When Google searches this site, our archived PDF's all get searched. That means over 120 files beyond the html files. More on this topic on the intermediate search page that you will encounter.
Printing
: To print pages from the center column, be sure to click your mouse in the center column before you do File -> Print. To print the whole window contents, be sure to click outside the center column first.


More Help
: If additional issues should be addressed in the Help Section, please let the webmaster know. Send email to
webmaster@noccc.org
. Help make the Help section a real Help resource.

Site Disclaimer
Suggestions? E-Mail to
webmaster@noccc.org
Last update: 10/18/16