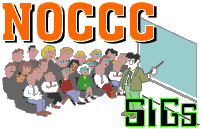 NOCCC Special Interest
Groups
| | |
| --- | --- |
| Users Linux | Topics on Linux OS. Beginner's Qs here. |
| Beg. Digital Photography | Topics about digital photography. |
| Beg. PC Q/A | Building your own PC and other topics! |
| Administration for Linux | More topics about the Linux OS. |
| MS Excel/Access VBA | Access & Excel VBA code. |
| Adv. Digital Photography | Demos of useful photographic tools/accessories. |
| Mobile Computing | This SIG discusses mobile devices. |
| Microsoft Access | Database applications and more. |
| Adv. PC Q/A | PC hardware, software, Internet - Q & A . |


For more details and activity reports about each SIG, consult
the Orange Bytes Newsletter, and see the Calendar Page for time and room number.

Site Disclaimer Suggestions? E-Mail to sigs@noccc.org
Last structural update: 08/23/11

Copyright © 1997 - 2016 by
North Orange County Computer Club.
All rights reserved. Site assistance by CitiVU.